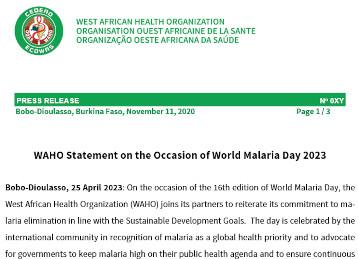 Bobo-Dioulasso, 25 April 2023: On the occasion of the 16th edition of World Malaria Day, the West African Health Organization (WAHO) joins its partners to reiterate its commitment to malaria elimination in line with the Sustainable Development Goals.  The day is celebrated by the international community in recognition of malaria as a global health priority and to advocate for governments to keep malaria high on their public health agenda and to ensure continuous engagement with major stakeholders.  The theme for this year's celebration is "Time to deliver zero malaria: invest, innovate, implement". 
According to the World Health Organization (WHO), an estimated 247 million malaria cases were reported worldwide in 2021, of which almost half (48.5%) were in the ECOWAS region although the region hosts only about a tenth of the global population at risk for malaria.  Similarly, about half (52.8%) of the estimated 619,000 global malaria deaths were reported in the ECOWAS region.  Beyond health, these figures convey significant socio-economic consequences, especially on mothers and children. 
Most ECOWAS countries are off-track in meeting the global milestones towards malaria elimination.  Indeed, the malaria incidence and death rates have stagnated since 2017.  The ECOWAS region faces political turbulence, on-going terrorist activities, disease outbreaks and relatively weak health systems that hinder effective surveillance and implementation of interventions.  Malaria programmes face various threats such as limited funding, vector resistance to insecticides, spread of Anopheles stephensi, drug resistance and low access to prevention and treatment.  There is, therefore, an urgent imperative to invest, innovate and implement.
Despite the challenges, important gains have been achieved.  Cabo Verde, The Gambia and Ghana attained the global malaria technical strategy targets, recording more than 40% reduction in the incidence of malaria between 2015 and 2020.  Cabo Verde has initiated the process
for the certification of malaria elimination.  Nine of the 24 countries that have, so far, launched the "Zero Malaria Starts with Me" campaign are in the ECOWAS region.  A total of 40.4 million children aged 3-59 months in eleven ECOWAS countries were reached with 161 million doses to protect them from malaria during seasonal malaria chemoprevention (SMC) campaign in 2021.  A regional network involving Parliamentarians committed to malaria elimination has been established.  Countries such as Ghana and Niger have formed a national caucus of parliamentarians actively engaged in the malaria elimination agenda including health budget approval, vector control and public education.
Many ECOWAS countries are preparing to use newer generation long-lasting bednets to overcome the growing pyrethroid resistance.  They are also gearing up for further guidelines on the use of approved malaria vaccines.  Further examples of innovative investment are the digitalization of data collection in bednet distribution and SMC campaigns as well as microstratification of malaria risk to the sub- national tailoring of interventions. 
Studies show that every $1 per capita invested in malaria interventions in Africa could result in an increase in per capita gross domestic product (GDP) of about $6.75.  In this regard, and in line with the resolution of Assembly of ECOWAS Health Ministers in May 2019, WAHO calls on Member States to mobilize domestic resources and tap into other innovative funding sources including the private sector.  WAHO acknowledges some initiatives such as the launching of End Malaria Councils and Funds as well as the engagement of the private sector including the banks, mining companies, telecommunication companies and philanthropists.  WAHO will continue to provide financial and technical support in training, vector control and to improve access to prevention, diagnosis and care.  It is essential to actively engage communities and, to the extent possible, synchronize our campaigns in cross-border areas.
On the occasion of the 16th World Malaria Day, WAHO thanks the ECOWAS Commission and Member States, the African Union, the African Leaders Alliance on Malaria (ALMA), -the RBM Partnership to End Malaria, WHO, bilateral and multilateral organizations, donors, NGOs, the media,
civil society, the youth and the communities for all their support to malaria control and elimination over the years.
Together, we can build back better and faster!  Now is the time to deliver zero malaria through increased and better investments, innovation and implementation!