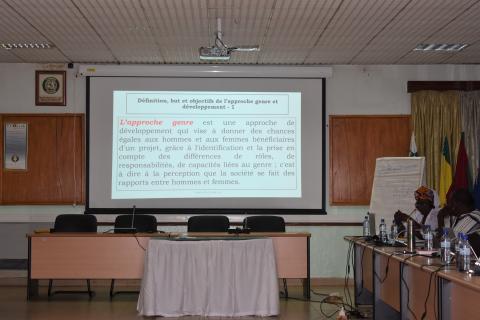 The West African Health Organization (WAHO) is training its staff on Gender Mainstreaming in Planning
Bobo-Dioulasso, 2 October 2019 – The West African Health Organization (WAHO) is organizing a three-day training workshop for its Professional staff on Gender Mainstreaming in planning.
The training which started on Wednesday 2 October 2019 is to build the capacity of the Professional staffs on mainstreaming gender in their planning activities.
During the three days, participants will discuss the following among others:
Conceptual considerations of gender and the theoretical foundations of gender;
Gender and socialization;
Gender analysis in development with focus on Gender Sensitive Planning, Monitoring and Evaluation ; and
Training reinvestment plan.
In opening the workshop, the Director General of WAHO, Prof Stanley Okolo, highlighted the need for WAHO to be gender sensitive in its approaches and all interventions.
WAHO contracted a consultant to analyze the gender profile within WAHO. Specifically the consultant was required to:
Undertake a situation analysis of gender representation and capacity in WAHO's programmes and operations;
Support WAHO to develop actions for improving gender representation in the organization;
Develop a framework for mainstreaming gender in WAHO's programmes and operations;
Develop a roadmap for operationalization of the framework for mainstreaming gender within WAHO;
Produce an article on the results for publication in a reputable journal.
One of the expected output is the organization of a training of the staff in the application of gender in their planning.