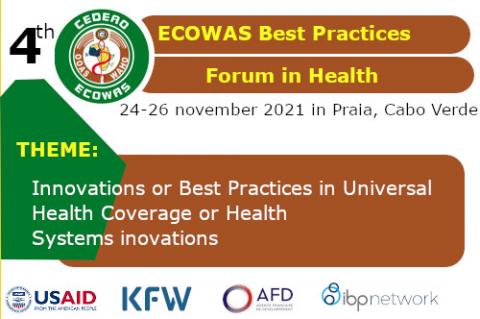 ANNOUNCEMENT AND CALL FOR ABSTRACTS
The West African Health Organization (WAHO), in collaboration with ECOWAS Member States, Eastern, Central and Southern Health Community (ECSA-HC) and partners, are in the process of organizing the 4th ECOWAS Best Practices Forum in Health (FBPS) that will be held on 24-26 November 2021 in Praia, Cabo Verde.  
The forum will bring together senior officials from ministries of health, regional health experts, researchers and managers of training and research institutions, major local, regional and international NGOs, managers of private companies involved in the health sector, as well as partners in the region and elsewhere.
Theme Sub-themes of the Forum:
The Forum will therefore focus on any "Innovations or Best Practices in Universal Health Coverage or Health Systems".
We welcome and encourage you to submit abstracts and scientific papers on best practices that are relevant to the theme of the forum, for possible presentation.
Methodological tools to be used:
 
The abstracts and scientific papers on best practices should consist of evidence-based programme experiences, case studies that are innovative, and have added value in terms of accountability and new thinking in UHC and Health Systems. These will be scored in order of priority as follows:
Use of Information and Technologies
Innovation and Originality
Task Shifting/Sharing 
Networking and Inter-sectoral Collaboration
Evidence-Based Decision Making
A Regional/International Evaluation Committee will be established to select suitable entries and winners using the above criteria. Committee members will be volunteers from Ministries of Health, Research and Training Institutions, Technical and Financial Partners and NGOs, while taking steps to eliminate any conflict of interest.
The authors of the selected abstracts will be invited to make a presentation during the forum, either in PowerPoint or as a poster.
Three prizes will be awarded to the best abstracts, namely: Institution; Youth (under 35) and; Country.
From the accepted abstracts, some best practices and scientific papers will be selected to undergo further review and validation and thereafter published on the WAHO Web Site.
(Download from the WAHO website with the following link: http://www.wahooas.org/fbps):
Annex 1 - "Detailed Best Practice Template" from the WHO Guide to identifying and documenting Best Practices in Family Planning Programmes;
Template for summarizing information collected with the "Detailed Best Practice Template";
Abstract Registration Form;
Guidelines for Oral or Poster Presentation.
Organization of the Forum:
The purpose of the Forum is to promote and disseminate Best practices in health, thus accelerating the efficient and effective implementation of the ECOWAS member countries' priority programmes. The Forum will also serve as a platform for identifying key strategic issues, best practices, and innovative approaches that will be used to develop recommendations and resolutions to the ECOWAS Assembly of Health Ministers.
The Best Practice Forum is a two-yearly event, which will be organized this year in the form of a physical and virtual scientific conference with plenary and parallel sessions consisting of oral presentations and documentaries, followed by discussions, as well as exhibitions comprising of poster presentations (posters), electronic display and biomedical equipment and materials.
A meeting of the Joint Consultative Committee of Directors (JCCD) is convened in the afternoon of day three to validate the recommendations and resolutions from the Forum, which are to be submitted to the ECOWAS Assembly of Health Ministers for adoption. The JCCD is made up of General or National Directors of Health, or Permanent Secretaries, Directors of Research and Training Institutions and the Directorate General of WAHO.
Deadline for submission of abstracts: October 30, 2021
Notification of Acceptance deadline: November 5, 2021
Register and submit your abstract through the following link: https://fbps.wahooas.org