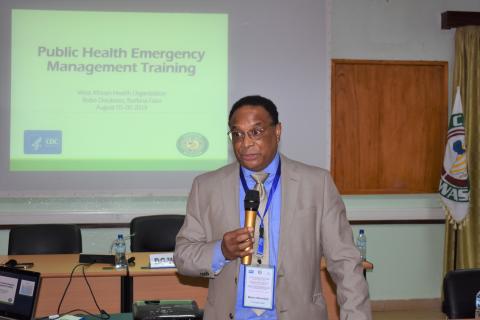 WAHO Staff Undergoing Public Health Emergency Management Training
Bobo-Dioulasso, 6 August 2019 – The West African Health Organization (WAHO) is in collaboration with CDC Global Health Security Program training its staff on Public Health Emergency Management Concepts and Principles.
The training aims to strengthen knowledge, skills and core public health emergency management capacities to respond to public health emergencies in line with all hazards approach.
Specifically, the training will (1) demonstrate an understanding of basic public health emergency management concepts, principles and functions; (2) explain response management principles used during pre-activation and activation of a public health emergency event and public health emergency operations center modes of operation; and (3) describe the structure of the Incident Management System.
At the end of training, participants will also be able to (1) distinguish the differences between essential elements of information and critical information requirements; (2) identify concepts to conduct a preliminary assessment; and (3) explain the differences between de-escalation and de-activation.
This 4-day training workshop which starts today 6 August 2019 is funded by the World Bank-funded REDISSE project and it is being facilitated by the CDC Global Health Security Program.
Participants include WAHO staff, WAHO Liaison Officers from the 15 ECOWAS countries, and representatives from the ECOWAS related institutions (Department of Early Warning, Department of Humanitarian and Social Affairs, and Regional Animal Health Center).