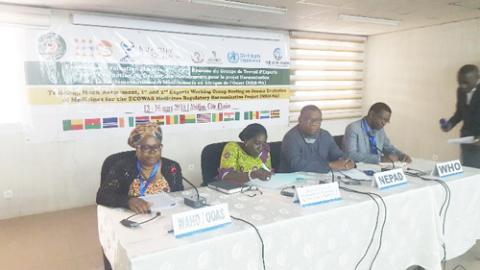 Date: 2018-03-22 20:09:36 ID: 1820
The National Medicines Regulation Agencies (NMRA) are trained to evaluate applications for certification of medicines in conformity with the Common Technical Document for medicines harmonization in the ECOWAS Zone 
 

Abidjan, 13-16 March, 2018, the West Africa Health Organization (WAHO) in collaboration with the West Africa Economic and Monetary Union (WAEMU), NEPAD and with technical support from the World Health Organization (WHO) organized the first training session for fifteen (15) National Medicines Regulation Agencies (NMRA) on the evaluation applications for certification of medicines in conformity with the Common Technical Documents (CTD), within the framework of the West Africa Medicines Regulations Harmonization (WA-MRH) project.

This first training session aimed at building the capacity of the APRA staff responsible for medicines registration and of the members of the Technical Working Group (TWG) on the evaluation and registration of applications relating to medical products in line with the CTD requirements and on sharing application assessment experiences. It was also an opportunity to conduct a simulation of joint evaluation of applications for the registration of medical products based on the harmonized CTD and on other reference documents, but also to formulate recommendations with a review to improving the medicines regulations harmonization process in the region. 
The CTD, resulting from the merger of ECOWAS and WAEMU directives on the certification of medicines, aims at harmonizing the procedures for granting market supply authorization (MSA) relating to medicines for human consumption in ECOWAS countries. 

It must be emphasized that the medicines regulations harmonization in ECOWAS is within the overall framework of African Medicines Regulation Harmonization (AMRH) and of the Global Initiative for Medicines Regulations Harmonization (GIMRH).  It aims at making available quality, efficient and safe medicines to the people of the ECOWAS region. 

Actively participating in the meeting were representatives of the East Africa Community (EAC) and the Southern Africa Development Community (SADC) who came to share their long experience in joint evaluation of applications for medicines registration. 

It will be recalled that the West Africa Medicines Regulations Harmonization project is funded by the World Bank with a view to improving the availability of safe and quality medicines and vaccines on the pharmaceutical market of the Economic Community of West African States, by strengthening and harmonizing the medicines regulations systems and the efficiency and transparency in the registration of medicines and vaccines.