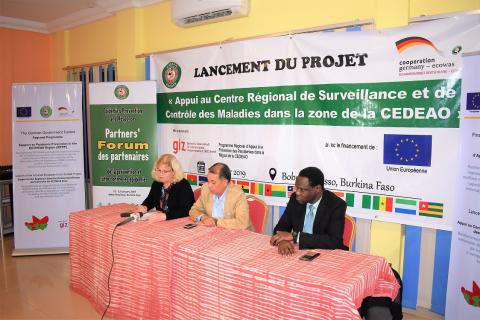 Launch of the Regional Project "SUPPORT TO THE REGIONAL CENTRE FOR SURVEILLANCE AND DISEASE CONTROL IN THE ECOWAS ZONE"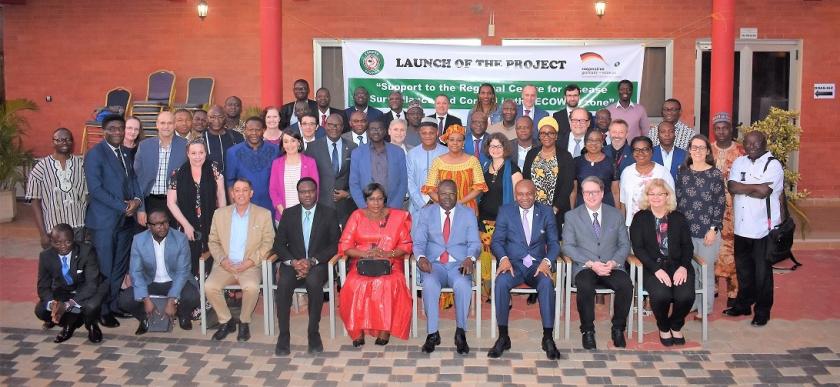 The Director General of the West African Health Organization (WAHO), Professor Stanley Okolo has launched in Bobo-Dioulasso, Burkina Faso (Sissima Hotel) a new project entitled ''Support to the Regional Center for Surveillance and Disease Control in the ECOWAS zone''.
In his keynote address, Professor Okolo emphasized that 'the year 2019 was a year of opportunity, an opportunity to assure the ECOWAS community that everything will be done to achieve the mission that the Heads of State and Government of ECOWAS have assigned to WAHO, especially through the ECOWAS Regional Center for Surveillance and Disease Control of (RCSDC).
The new three-year project, funded by the European Union and to be implemented by the German Agency for International Cooperation (GIZ), is integrated into the German Government (BMZ) funded Regional Programme Support to Pandemic Prevention in the ECOWAS Region (RPPP). It aims to strengthen the Regional Center and the National Coordinating Institutions (NCIs) for the functioning of country specific preparedness and response, including the "One Health" approach and operational research.
Four countries will be particularly targeted in the project: Guinea, Liberia, Sierra Leone and Togo. Its implementation will be done through the four existing approaches of the RPPP program. These are:
Improving communication on health risks in a gender-sensitive manner and on the ONE HEALTH approach;
Communication and inter-institutional coordination between the ECOWAS Commission, the regional specialized agencies, the national coordinating institutions and the partners;
Strengthening human resources in the areas of epidemic prevention and management;
Strengthening the use of the Surveillance, Outbreak Response Management and Analysis System (SORMAS).
The project will also operate in Ghana and Nigeria mainly on the use of the SORMAS tool in collaboration with a research institution in Germany.
The WAHO DG seized the opportunity of the launch to reiterate his appeal to all partners supporting epidemic preparedness and response to align their activities with those planned by WAHO for better synergy.
The guest of honor was the Governor of the Hauts-Bassins Region. In his speech, the Governor, Mr. Antoine ATIOU thanked WAHO and its partners for their efforts in the fight against epidemics and pledged Burkina Faso's support in the implementation of the project.
It is worth noting here that the launching of the ''Support to the Regional Center for Surveillance and Disease Control in the ECOWAS zone'' was done on the sidelines of the Partners Forum which brought together partners such as: the World Bank, the African Bank Development, WHO-AFRO, US-CDC, AFENET, CCISD, Fondation Mérieux, UEMOA, NGO CORDS, FAO, and the European Union. Also in attendance were KFW, the Agence de Médecine Préventive (AMP) and the staff of WAHO and the RCSDC.