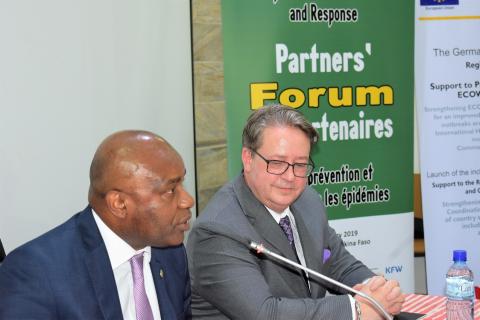 WAHO and its main partners hold joint consultations in Bobo-Dioulasso to agree on key actions for the prevention and control of epidemic-prone diseases in the ECOWAS region for the year 2019
The West African Health Organization (WAHO) organized from 22 to 23 January 2019 in Bobo-Dioulasso, Burkina Faso where its headquarters are located, the Epidemic Prevention and Control Partners' Forum.
In his opening address, the Director General WAHO, Prof Stanley Okolo thanked the representatives of the partner institutions for their participation in the forum. He recalled the main objective of the forum which was "to share information on prevention and disease control interventions to be implemented in 2019 by WAHO and the partners". He also stressed the need for partners to align their activities and interventions with guidelines for the control of epidemics and health emergencies as defined and contained in the WAHO 2019 annual work plan validated by the ECOWAS bodies.
At the meeting allowed, the following were achieved:
WAHO 2019 action plan was shared with all the partners present;
WAHO and its partners agreed on the results to be achieved in 2019;
Joint activities to implement were discussed; and
Actions needed to fill any gaps were identified.
A joint action plan, taking into account all the discussions and suggestions of all the partners, was adopted at the end of the meeting.