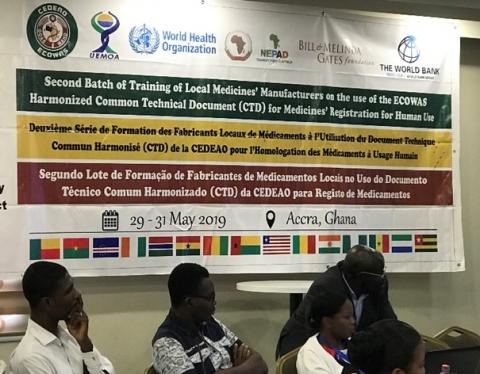 WAHO Holds the Second Batch of Training of Local Medicines' Manufacturers on the Use of the ECOWAS Harmonized Common Technical Document (CTD) for Medicines' Registration for Human Use
The West African Health Organization (WAHO) under the framework of the West African Medicines Regulatory Harmonization (WA-MRH) Initiative supported by UEMOA, NEPAD, WHO, the World Bank and the Bill and Melinda Gates Foundation, organized the second training of manufacturers located in the ECOWAS region on the harmonized ECOWAS Common Technical Document (CTD). The training was held in Accra, Ghana from May 29 – 31, 2019; and it follows the first one held in Lagos, Nigeria from 20 to 22 March 2019.
The WAHO-UEMOA relationship ensured the development of the CTD which was adopted at the 19th Ordinary Session of the Assembly of Health Ministers (AHM) in Banjul, The Gambia, on June 8, 2018.
The main objective of the meeting was to train the regulatory affairs staff and / or the staff in charge of medicines registration in the pharmaceuticals companies in the ECOWAS Region on the harmonized CTD and its applicability.
Participants had their capacity built on several technical components on the structure and the key elements of the harmonized CTD to enable them familiarize with the:
framework of a medicine's registration application in the CTD format;
contents of the different modules of the CTD;
NMRAs' requirements for the preparation of medicines dossiers in CTD format; and
Analytical methods.
The second meeting had 45 participants in attendance comprising staff of manufacturing companies from Ghana, Senegal, Cote d'Ivoire, Niger and Togo. Four (4) Experts from the Food and Drug Authority (FDA) of Ghana and the two (2) WAHO delegates facilitated the training.
The first training had 77 participants from companies all from Nigeria and was facilitated by four (4) Experts from NAFDAC, Nigeria and two (2) WAHO delegates.